Swiss substructure system for pitched
roof photovoltaic installations
Swiss substructure system for pitched
roof photovoltaic installations
Swiss substructure system for pitched
roof photovoltaic installations
Swiss substructure system for pitched
roof photovoltaic installations
SolarStand ST.I.33 In-Roof System – in brief
The SolarStand ST.I.33 In-Roof System is the only insertion system suitable for all framed standard photovoltaic modules. It enables the installation of small to very large in-roof solar energy systems at unbeatable value for money.
The SolarStand photovoltaic installation (PV installation) forms an aesthetic, well-proportioned, flat and even roofing surface. Individual roofing features, such as skylights, dormers, chimneys or snow guards, can be seamlessly integrated into your solar energy system.
After quick and easy planning, the in-roof solar energy system can be installed without the need for special tools. The system comes with screws and rivets included; just 10 different components.
The system also absorbs roof movements without them being conveyed to the installed solar module. This way, you profit from safe operation and a long service life from the entire solar energy system.
Advantages of the SolarStand ST.I.33 In-Roof System
The SolarStand ST.I.33 In-Roof System is currently the cheapest in-roof system on the market. By using framed standard modules, you get excellent value for money. With framed high-performance modules, you get the best value for money per m2.
In addition, the SolarStand ST.I.33 in-roof system is the only system that can take the immediate use of the latest module generations and power classes available on the market into account.
For each in-roof installation, a project report is created which, together with general applicable planning information, forms an individualised foundation for the planning and realisation of your in-roof installation. We deliver the appropriate installation rails for any framed solar module to you directly from the warehouse, and we also ensure a fast planning and construction phase.
Our ST.I.33 in-roof system is manufactured to the highest quality standards in Switzerland. The aluminium profiles used, and all other components, come from Switzerland or the EU area, and not from Asia.
The SolarStand ST.I.33 system is versatile and enables your individualised constructions. Scalability enables use on small as well as large objects – from family homes to large industrial buildings (see testimonials).
You don't need any special tools for the in-roof system's easy assembly. The special insertion system ensures that the installation can be used in no time at all (see assembly videos).
With the SolarStand ST.I.33, solar energy modules are inserted symmetrically into the construction. You therefore avoid module flaking with the unsightly hook holders required by other systems. The modules therefore maintain an aesthetic and homogenous-looking roof.
We are happy to advise you.
Do you need support in planning and sizing-up your photovoltaic installation, or are you looking for a PV-installer near you? We offer quick, straightforward advice!
ST.I.33 In-Roof System - Detailed information
A solar energy system converts light energy from sunlight directly into electrical energy. To this end, solar cells are usually installed on the roofs of buildings. Two different assembly systems can be used to secure solar modules to a building roof: On-roof systems, and in-roof systems. Both systems are also installed as clamping or insertion systems.
With on-roof systems, you install the solar modules onto the existing roof using a mounting rack. Fixing hooks are therefore often visible. On-roof solar energy installations immediately act like a foreign object on the roof. Should works be required on the roof at a later date, you have to first disassemble the substructure, and the solar modules.
On the other hand, with in-roof systems, the PV-installation is integrated into the roof membrane. Besides the generation of electrical energy, it also helps keep your roof sealed, and provides protection from the elements. You often benefit from a cost saving as, in many cases, this system helps save on roofing. The SolarStand system is an insertion system which has the added advantage of protecting the module from all roof movements and loads.
In-roof solar installation owners like the aesthetic look. This, one the one hand, comes from the fact that the solar installation does not physically rest on the roof like a foreign object, but rather it can be seamlessly integrated.
On the other hand, roofing elements, such as dormers, skylights and chimneys can also be aesthetically integrated. With new builds and roofing refurbishments, in-roof installation can be particularly advantageous. Here, you do not have to worry about providing an additional roof covering under the surface of the solar energy system. This type of application guarantees to the deliver with a tiled roof.
A further advantage means that in-roof systems work with installation rails and have excellent stability in terms of snow loads and wind pressure. What's more, they can absorb all types of roof movement, such as dilatations, without the solar modules being affected. This has a direct positive impact on operational safety and durability.
Our in-roof system can be used in extremely versatile ways. In general, they are suitable for any pitched roof with a pitch between 7° and 60°.
One particular feature of these systems is that they can be easily scaled. No matter how large the roof surface, in-roof photovoltaic systems should be used. From family homes to large buildings, the possibilities are endless.
This versatility, amongst other things, ensures that in-roof systems are suitable both within a residential setting, and for agricultural, industrial and business premises. Whether a family home, or an apartment block, it makes no difference. With versatile and simple assembly, installations on complex roof shapes, roof extensions and structures can be easily implemented.
Die vielen verschiedenen Anwendungsbereiche und die hohe Flexibilität machen unser System zu einer optimalen Lösung für Ihre Fotovoltaikanlage.
Assembly and installation of our SolarStand in-roof system is easy and straightforward. You don't need any special tools. Additionally, the entire system comes complete with just 10 different components. Even screws and rivets are already taken into account. An additional advantage, which cannot be disregarded, is the use of an insertion rail which is laid on the respective module type. This insertion rail ensures that the module is laid quickly and, at the same time, protected from all loads arising from dilatations.
In terms of tools, you only need a cordless screwdriver with a TX40 attachment and 6 mm Allen, an Allen key with 3 mm and 4 mm, a hand riveter with a 1.5 – 3 mm mandrel, a tape measure and a rule.
In the following, we describe the six steps required to install a photovoltaic installation onto the base of the SolarStand ST.I.33 in-roof system. We also give you access to three demonstrative installation videos which make the process even easier.
Step 1: Eaves linkage
Firstly, the fitter, or solar installer, affixes the eaves linkage in preparation for the assembly.
Step 2: Vertical drainage
Second, the vertical drainage is installed. Screw the vertical drainage profiles in the subsequent grids of the solar module onto the battens. Clamp mountings are then mounted as fix and sliding points. The fix points are then riveted with two blind rivets (see installation video 1).
Step 3: Installing the cross connector
The cross connector is now installed. Slide the sliding block into the channel provided. At the same time, press the EPDM rubber seal into the profile. Ensure that the horizontal drainage rails rest on the EPDM rubber seals across their entire length (see installation video 2).
Step 4: Horizontal drainage profiles and insertion rails
In the fourth step, initially lay the horizontal drainage rails and insertion rails on the EPDM rubber seals. The rails are customised to the module dimensions. Drainage profiles and insertion rails can now be simply clicked into the cross connector. At the ends of the insertion rails, screw in the end angles which stop the PV modules moving apart over time (see installation video 3).
Step 5: Cables and module field connections
Der fünfte Schritt dient der Verkabelung der Fotovoltaikanlage. Verlegen Sie dazu die Stringkabel der einzelnen Solarmodule sorgfältig unter dem Indach-System und nutzen Sie Kabelbinder, um die Kabel zu fixieren. Achten Sie darauf, für die Befestigung ausschliesslich UV-beständiges Material zu verwenden. Dieser Schritt kann auch als Schritt 2 erfolgen, bevor die vertikale Entwässerungsschiene auf der Lattung fixiert wird. Je nachdem, wie Sie Ihre Verkabelung verlegen möchten.
Step 6: Insert and connect the solar modules, and then attach the edge connections
In the sixth and final step, the solar modules can be laid into the in-roof system and connected. Install the individual modules into the profile on the upper side, attach at the bottom, and then slide downwards.
To make the cabling easier, place the module for a short time in the respective lower horizontal profile. This makes connecting the cable much easier. Once connected, the solar module can then be slid in as described above.
Finally, the remaining module fields (verge, roof ridge) are attached to the roof by a fitter or solar installer. Depending on the type of installation, joining plates are manufactured and installed by a specialist.
Please note:
Ensure that roof works are only carried out by trained specialists. All building regulations and the provisions of standards, environmental protection and recycling must therefore be observed and complied with.
Additionally, ensure that during each phase of work at least two persons are present so that in the event of an accident, assistance can be quickly provided. Throughout the installation it should be ensured that both an up-to-date version of the assembly instructions and the project report created for the photovoltaic installation are readily available.
Photovoltaic installations are encouraged in Switzerland. Various forms of compensation are therefore available at the federal level (feed-in remuneration, one-off reimbursement for small or large installations, cost financing). Individual cantons and municipalities offer additional subsidies for photovoltaic installations. In the cantons of Thurgau and Waadt, battery storage is also encouraged.
To take full advantage of the possibilities open to you, we suggest that you visit the Pronovo AG website (www.pronovo.ch). Pronovo AG is an accredited certification authority in the renewable energies sector. It is, amongst other things, commissioned by the Swiss Federal Government with the registration of guaranties of origin and the execution of subsidy programmes. The company is part of the Swiss transmission system operator Swissgrid and is regulated by the Bundesamt für Energie /Swiss Federal Office of Energy, BFE).
On Pronovo's website, you will find lots of information about renewable energy subsidies. Here, you will also find an easy-to-use tariff calculator which you can use to calculate your individual amount of funding in just a few simple steps.
If, as an architect or installer, you require support in planning a SolarStand in-roof photovoltaic installation, we're happy to provide you with help and assistance. Amongst other things, we provide a *dwg file which gives you all the connection details of our SolarStand ST.I.33 system.
Contact us without obligation. We'll be happy to advise you.
Developed, manufactured and sold in Switzerland, the SolarStand ST.I.33 In-Roof System will above all win you over with its unbeatable value for money, its versatility, and its quality. It is also the only integrated system that has been tested by TÜV, Cologne, and successfully certified according to the «impact water test» EN 15601:2012 test procedure.
The general buildings regulation examination certificate bears the certification ID P-BWU03-I-16.3.409.
Solar installation and system manufacturers which satisfy the criteria of the roofing association Swisolar, and who are obliged in accordance with the prior Art to offer high-quality products, carry the label SOLARPROFIS®.
Solarteam AG, manufacturer and distributor of the SolarStand ST.I.33 In-Roof System has held the SOLARPROFI® label since 2009.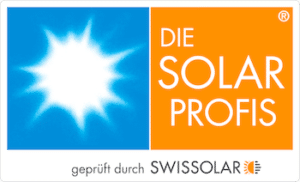 Important downloads and documents
Solarteam AG has been active in the photovoltaics sector for more than 10 years and stands among the most innovative suppliers within the Swiss renewable energies market. We will support you throughout your photovoltaic project; from the feasibility study, providing comprehensive advice, and through to the delivery of all the required components. 
Do you have any questions about our products and solutions, or do you need support in planning and creating your photovoltaic installation? Then get in touch with us now. We look forward to hearing from you!